field research and testing
In addition to the design of the Flywheel apps, I also performed design research to improve the existing UX and to generate ideas for new features. In addition to understanding our passengers' needs, I worked to understand the unique needs of taxi drivers and make sure our service helped empower their livelihood. Both drivers and passengers needed to feel that our service was safe, trustworthy, and usable and that it fit into their lives. Below is a roundup of the methods I used for design research at Flywheel.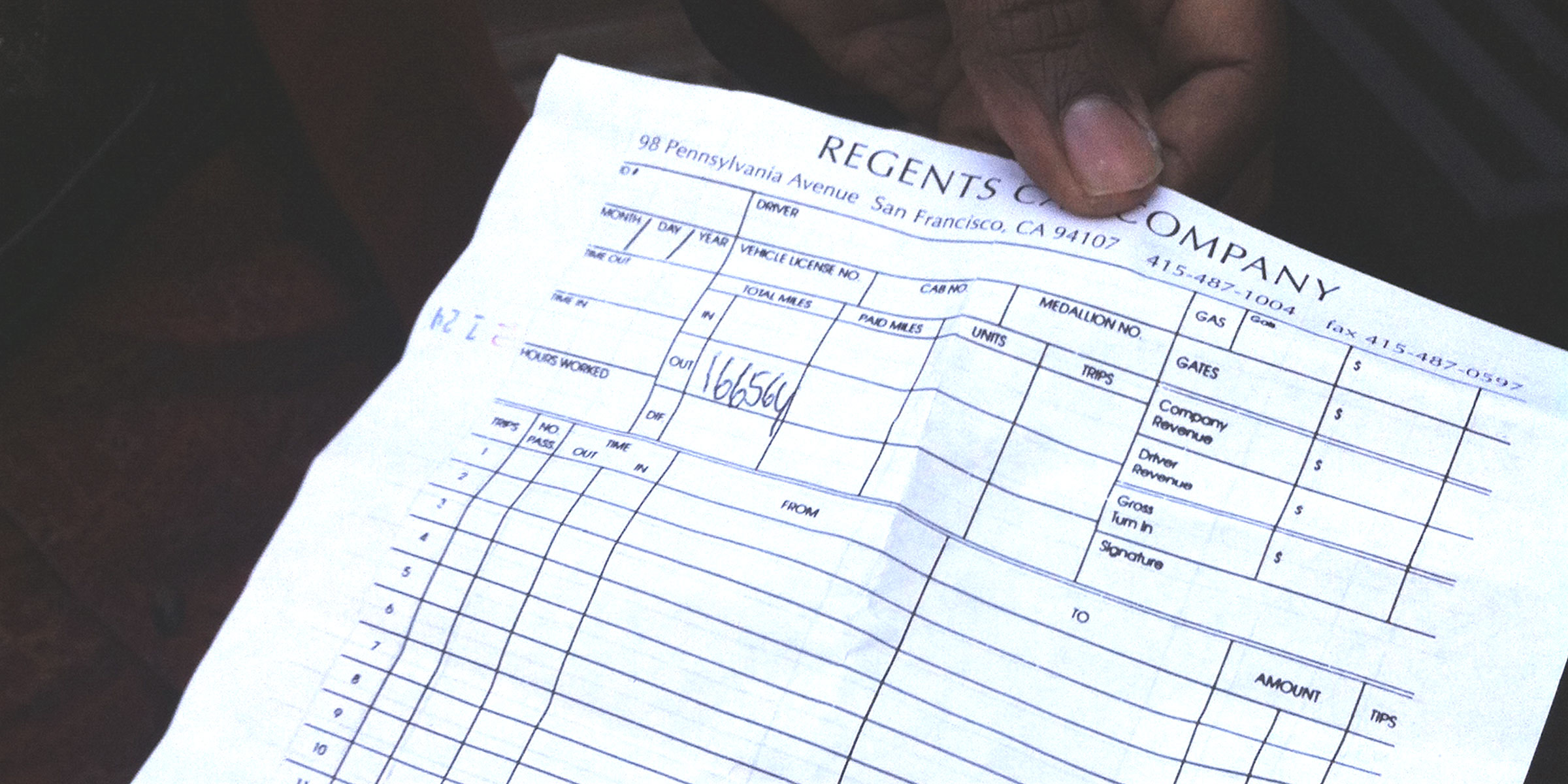 This paper waybill is an artifact uncovered in research. A lot of my UX work at Flywheel involved understanding why the taxi industry was so slow to adopt technology solutions, and how we could overcome that reluctance.
online surveys via email
SurveyMonkey integrated with MailChimp (to survey existing Flywheel users) or distributed via social media, forum sites, etc. (to survey non-Flywheel users). Examples: loyal users survey, first ride followup survey, "breakup" survey, etc.
Google Forms used for screening & recruiting interview participants, tracking research participant pool.
Personal-looking emails to user segments with open-ended questions like "How was your ride?" "Why did you stop using Flywheel?" "What do you like about Flywheel?"
Automated surveys sent out after trigger (for example, taking a black car ride).
This is a still from a video of Flywheel field research with a usability participant. Since our app is about getting a ride in real-time, testing our app "in the wild" was the only way to understand how it was really used by our customers.
usability testing and user interviews
Mock up early ideas & load into InVision prototyping tool. Give participants task-based prompts to test desired interaction flow.
Use TestFlight to test usability of prototype builds while in development—test in the lab with researcher acting as "driver."
Observe how passengers use Flywheel and competitor apps "in the wild."
Use Screenflow & other recording tools to document and share with team via YouTube (private).
Use Hangouts or Skype with screensharing for remote interviews.
Ethnographic & needs-finding interviews.
New feature requests—mentioned organically by passengers as well as force-ranked roadmap items.
I visited fleets during the afternoon shift change to listen to drivers and test new features.
I also frequently rode along with drivers, to see first-hand how the Flywheel equipment functioned in the field. This method uncovered issues we would not have known about otherwise, such as issues with the charging cable for the device.
other research methods
Competitive Analysis - Track changes in UX in analogous apps.
Longevity Studies - Check in with the same users over the past two years. Track service perception over time.
Driver Reviews - I read all comments left by passengers after their ride. Follow up immediately for "just-in-time" research.
ZenDesk Tickets - Track trends in feature requests, usability issues, driver behavior issues.
Quantitative Data - MixPanel, server reports, etc. Spot trends, ask questions. Find out the story behind the numbers.
I also attended relevant city and state regulatory meetings and hearings—and even rallies.
driver outreach and research
Fleet Visits - conversations with drivers (Flywheel users and non-users), dispatchers, cashiers, managers at the fleet at shift change (3-6pm).
In-cab interviews - Hail a cab, interview driver during the ride.
Ride-Alongs - spend a shift with a cab driver.
ZenDesk Ticket Tracking - track trends in app and service issues, feature requests.
Driver Council - Group of drivers from representative fleets who regularly provide feedback on new designs and service changes.
Beta Testing - Roll out new versions of the app to one fleet at a time.
Phone interviews - Get feedback on new ideas that Flywheel has or specific features that they have requested.
Contextual inquiry & fly-on-the-wall observation of dispatchers.
Email surveys (not very successful for this population).
Comparison to other driver apps / services - from Uber to Verifone.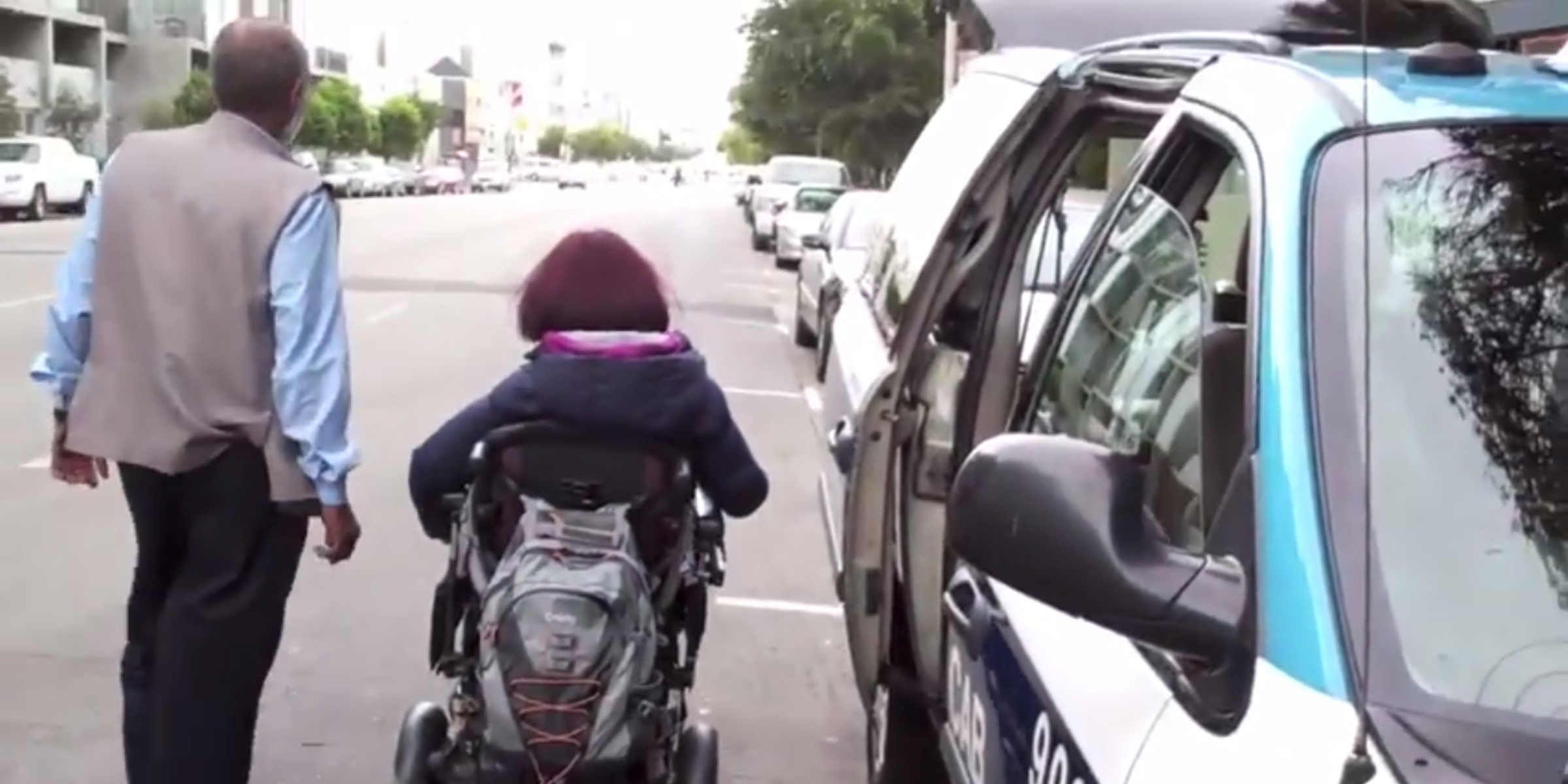 At Flywheel, I worked to build strong relationships with taxi drivers to better understand their needs. One important differentiator of Flywheel taxis versus Lyft or Uber was the special training that all taxi drivers have to undergo, including how to accommodate people with disabilities.